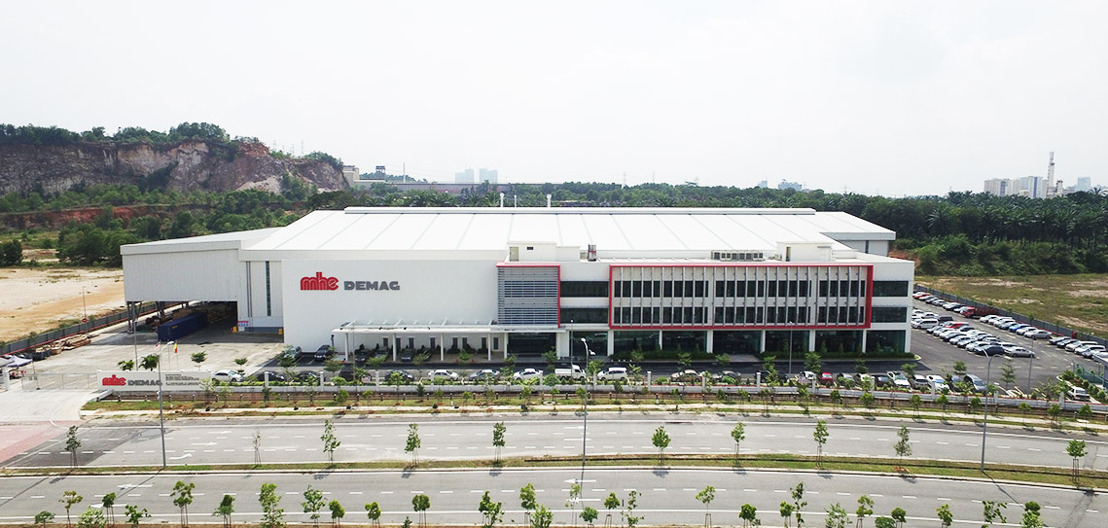 MHE-Demag Opens South East Asia's Largest Crane Manufacturing Plant in Malaysia
RM45 million state-of-the-art facility to drive growth and excellence within the region
Kuala Lumpur: MHE-Demag, a joint venture between Demag Cranes & Components GmbH and Jebsen & Jessen (SEA) Pte Ltd, has officially opened its largest manufacturing and warehouse facility in Bukit Raja, Malaysia. Developed at a cost of RM45 million, the facility can operate at a capacity of 200,000 production hours a year, a 54% increase from the previous site. The facility is also expected to support the fabricated metal products and machinery & equipment industries; two key areas that have been identified as drivers for the manufacturing sector to attain its projected growth of 5.1% per annum.[1]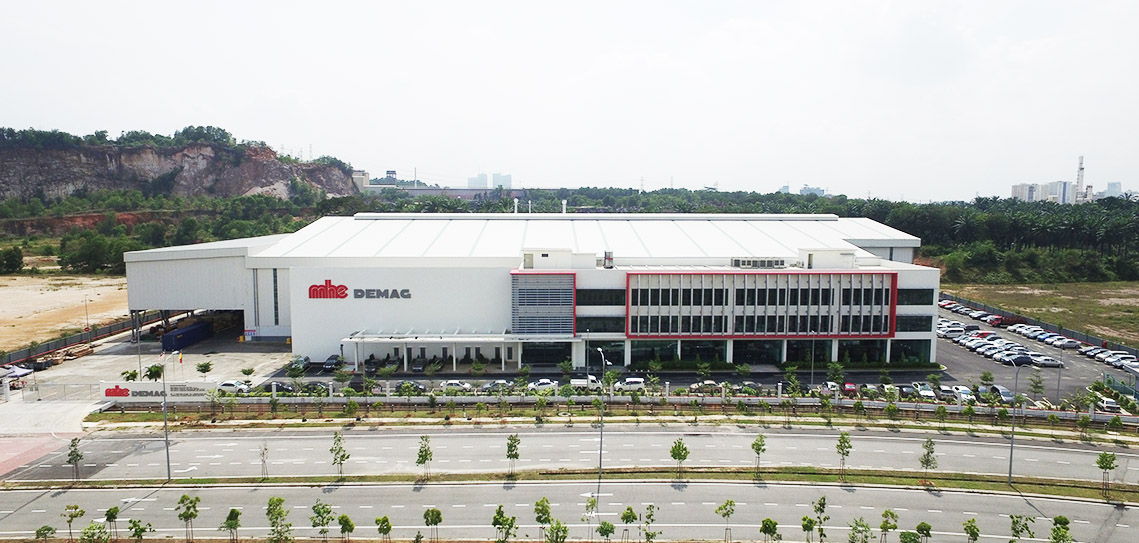 With a built-up area of close to 15,000 sq. meters sitting on over 26,000 sq. meters of land, the plant is also the largest and first-of-its kind crane manufacturing facility in Malaysia and the region. Capable of building cranes of up to 50-meter span, this plant will primarily serve customers from Malaysia, Australia, Cambodia, Myanmar and Singapore, who hail from various industrial sectors where lifting, moving and maintenance of materials or machineries are required.
Mr Karl Tilkorn, Regional Managing Director, MHE-Demag, said, "This investment cements MHE-Demag's commitment to Malaysia over the past 40 years, and is an important step forward for us. This plant is the largest and most modern of our eleven manufacturing facilities across the South-East Asian region. Each industrial crane needs to be individually designed and custom fabricated, hence the larger production facility along with state-of-the-art equipment will allow us to maintain our leadership position to meet the high standards required by our growing customer portfolio, particularly with the prestigious projects we have secured."
The facility will also host MHE-Demag's Regional Training Center, where employees and customers throughout the Group will attend skills training and upgrading programmes to ensure excellence in operations, maintenance and safety for industrial cranes is maintained.
Karl added, "Human resource development is a key component of the MHE-Demag quality culture. The drive to attain environmental, health and safety (EHS) excellence is ingrained in our business ethics and we continuously work towards extending this mind-set to our suppliers and vendors as well."
The factory has also been built in reference to the Malaysian Green Building Index, incorporating the most environmentally friendly solutions.
Mr. Frankie Chan, Managing Director of MHE-Demag Malaysia said, "We have put a lot of focus on creating conducive work areas that have a low impact on the environment. This includes building for natural ventilation and employee well-being; from utilizing translucent panels to allow for extensive natural light to investing in ergonomic workstations. The construction process of this manufacturing facility was also personally managed by our Regional Director, Mr. Joergen Moeller, from design to final stage. I strongly believe the new factory will enhance employee comfort and increase their motivation, leading to greater customer satisfaction."
The Bukit Raja manufacturing facility is also a showcase of MHE-Demag's innovative solutions. Leading MHE-Demag material handling products such as lift trucks, dock levellers, aerial work platforms, building maintenance systems for safe working at heights, as well as automated car parking systems are employed in industrial applications throughout this facility.
Easily accessible via the North Klang Valley Expressway, Federal Highway, the New North Klang Straits Bypass and the new proposed Coastal Highway, the Bukit Raja manufacturing facility also connect to major ports such as Port Klang, Northport and West Port within 30 minutes.
Besides Bukit Raja, MHE-Demag has another manufacturing facility at Simpang Renggam, Johor, and twelve sales & service offices within Malaysia. In addition, a service depot is also established in KLCC. MHE-Demag is accredited to internationally recognized quality certifications, ISO 9001, EHS 14001 and OHSAS 18001. Products manufactured at MHE-Demag facilities are guaranteed to the highest quality and trusted by several local well-known companies. With a dedicated workforce of more than 1,600 well trained staff across the region including 700 responsive service engineers and technicians, an attentive back-office, intelligent IT infrastructure and a fleet of 300 service vans, MHE-Demag is the leader in after sales service in the region.