Heroes at 335m
MHE-Demag sponsors this year's KL Tower International Jump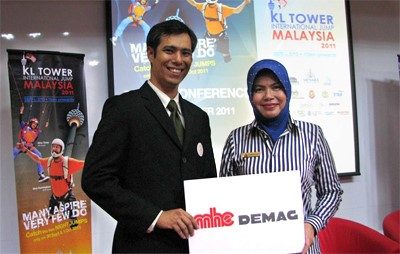 This year, MHE-Demag will be sponsoring the KL Tower International Jump, with over 100 BASE jumpers from all over the world taking part. An extreme sport, BASE jumping utilises parachutes to jump off any chosen building. BASE is an acronym for Building, Antenna, Span and Earth – in this case the jumpers will be starting at the top of the KL Tower, an activity which began in 1999 and has since attracted thousands of tourists.
Regional managing director Per Magnusson explains that this initiative was to lend their support to a loyal customer.
"To support KL Tower – a long standing customer – and to emphasise that we also do courageous leaps to reach new heights for our customers, MHE-Demag chose to become a sponsor of the KL Tower International Jump this year," he says.
MHE-Demag's relationship with the KL Tower dates back to 1995 when they supplied the very first Building Maintenance Units (BMUs) and cranes. Today, the landmark KL skyline is equipped with the following by MHE-Demag:
Machine T22 – a custom-made Manntech BMU, it is used to clean the tower shaft and base of the tower head. The unit is mainly used for aircraft warning light replacements and is capable of rotating 360 degrees around the tower.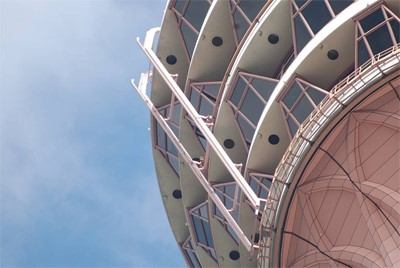 Machine TH05 - This Type 1 Manntech BMU is used for glass cleaning and maintenance of the lights around the tower head. It has even been used for wedding ceremonies in the past where the newlyweds can enjoy the magnificent view from the basket of this BMU.
Machine TH07: This crane with a custom-made Demag winch is located on the roof of the tower head. At 335m, it is the crane with the highest lifting height ever sold by MHE-Demag used for lifting material and components such as antenna dishes, from ground level up to roof level. Previously, BASE jumpers have used the crane jib as a ramp for their jumps.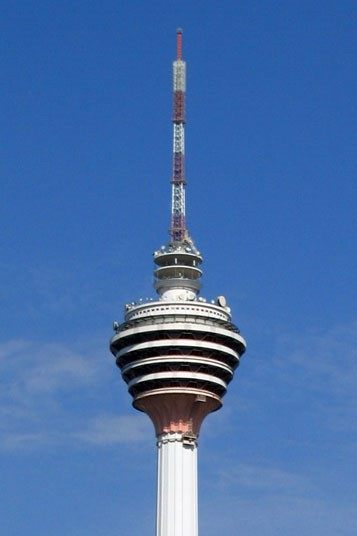 Machine TH11: This crane, located right next to the antenna, features a MHE-Demag DH hoist and is used to lift components from the roof of the tower to the upper floors of the tower. It is primarily used for antenna installations. The crane is capable of rotating 360 degrees around the tower.
Apart from the KL Tower, Regional Business Unit MHE-Demag equipped many other notable landmarks in Malaysia and across ASEAN, including
Malaysia:
· Menara Maxis, The Troika
· The Icon, Traders Hotel KL
· KL Pavilion
· Berjaya Times Square
· Kompleks Dayabumi
· Perdana Putra (the Prime Minister's office)
· Istana Kehakiman (the Palace of Justice)
Singapore:
· Marina Bay Sands & Marina Bay Financial Centre
· Gardens by the Bay
· The Sail
· UOB Plaza Singapore
· Capital Tower
· Asia Square Tower
· Singapore Management University
· Fusionopolis complex
Indonesia:
· Wisma 46 / Kota BNI complex
· Allianz Tower
· UOB Plaza Jakarta
Thailand:
· Peninsula Hotel
· Central World Hotel
· NBIA (Suvarnabhumi Airport)
Vietnam:
· Bitexco Financial Tower (HCMC)
· Museum of Hanoi